Effective, Natural Sciatica Pain Treatment In Beaverton
Experience Same Day Pain Relief At Devine Chiropractic
Sciatica is caused by compression on the sciatic nerve and the pain can be excruciating. We understand how discouraging it can be to complete even the simplest of daily tasks with this pain. Devine Chiropractic is here to provide you with fast, effective relief from your sciatica so you can get back to enjoying your life.
Start living free from pain.
Call us at 503-245-8445 for your FREE consultation!
At Devine Chiropractic, we've been successfully treating sciatica pain just like yours since 2002. For your convenience, we offer same-day appointments, free consultations and accept medical insurance. BOOK YOUR APPOINTMENT »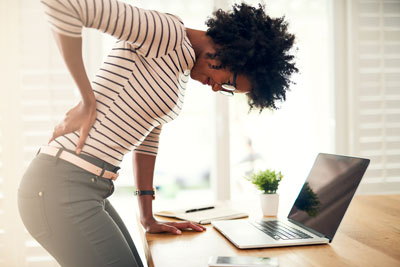 Are You Suffering From Any Of The Following Symptoms?
Leg pain
Lower back pain
Burning or tingling
Weakness or numbness
Hip pain
We can treat the cause of your symptoms and get you out of pain fast.
Treatment Methods Offered Include:
Activator Methods®
Arthrostim
Diversified
Gonstead
Thompson Drop Table
Sacro Occipital Technique
Torque Release Technique
Upper Cervical Specific
Schedule your FREE consultation today. Call (503) 245-8445 to get started.

Our Patients Love The Devine Chiropractic Experience
I don't know what I would do without Dr. Devine in my life. He has helped me recover from some pretty awful things I have done to my body. He is patient and kind and at 72, that's qualities I'm looking for in a doctor. He always makes me laugh and reminds me to drink more water. The office staff are all top notch, cream-of-the-crop people. Everything runs smooth and you never have to wait. Even though there are other patients in the office at the same time, somehow they manage to make you feel like you are the only patient they have. I wouldn't want to see anyone else.

When only the best will suffice, you need a chiropractor like Dr. Divine and Dr. Ron. Both provide exceptional service, paired with a friendly and knowledgeable staff. They truly care about healing your body and improving your quality of life.

LOVE, love, love this place! Their friendliness and professionalism far exceeds any other chiropractors office I have ever visited. I was in a car accident over 10 years ago and after coming here I am finally starting to feel like I could actually have a normal pain free life!! I will never go anywhere else again.

Great chiropractor and staff! Thanks Dr. Devine for creating a great place for people to heal and maintain optimal health!

Wonderful staff and very accommodating to crazy schedules.

Great clinic, great doctors, great customer service. I feel that they really care about me and my family.

I work in healthcare and have been to so many clinical settings. Devine has figured out how to combine exceptional customer service with quality care. They put YOU first. You feel it from the first time you call, the first time you walk in their doors and even when you walk out. Love this place!!

Been seeing Jeff for 2+ years now. They are always helpful and make sure you are comfortable. Amazing service. Always get me in for walk ins when I need them. Overall A+

Great experience, friendly, responsive and knowledgable staff. Appointments are quick yet thorough, and pricing is very competitive.

Results were quickly noticeable, reduced pain within a few visits, complete pain free with 2 months.

This entire team has changed my life. I cannot thank them enough for being the catalyst to restoring my health. They genuinely care about you in every aspect. Feeling so blessed to have their support.

One of the top 5 decisions I have made in my 60+ years was to sign up with Dr Devine's program to get my body working right again. I won't have believed it could be this good.

Dr. Devine is amazing. He listens, he cares and he works miracles. I have been to many Chiropractors and never came close to getting the results I have received with Dr. Devine. You won't be disappointed with him or the staff.

Dr. Devine and his team are a great bunch. He listens and truly wants you to better your life with his services. You will quickly see on your first visit day the wonderful atmosphere that exists there. Not only will he listen to you intently to your concerns but he will also explain to you where he sees concerns and what kind of treatment is recommended and why. In terms all can understand. Back pain is no fun and if you need help, I recommend Dr. Devine.

Great place to get your adjustments. The staff are professional, knowledgeable and friendly. Came here due to vehicle accident. My pain has been greatly and I can now go back living my life comfortably

We Can Alleviate Your Sciatica Pain Now
Call Us Today – (503) 245-8445

Natural Sciatica Treatment In Beaverton