Our Informative In-office Workshops
The mission of our practice is to support our patients through the delivery of outstanding chiropractic care and unique opportunities to grow and thrive in the world around them.
In keeping with that vision, Devine Chiropractic offers a wide variety of fun and interesting classes on a rotational basis. These educational opportunities range from meditation and raw food preparation to baby sign language and introductory yoga.
Please look at our rotating workshop schedule and sign up for the classes that you find intriguing. We encourage you to bring a friend. See you there!
Mark your calendars!
Don't miss this invaluable seasonal series of classes aimed at rounding out your care and getting you to optimal health faster. All classes are at Devine Chiropractic and all classes are included with care unless noted.
The Vital Shift/New Patient Dinner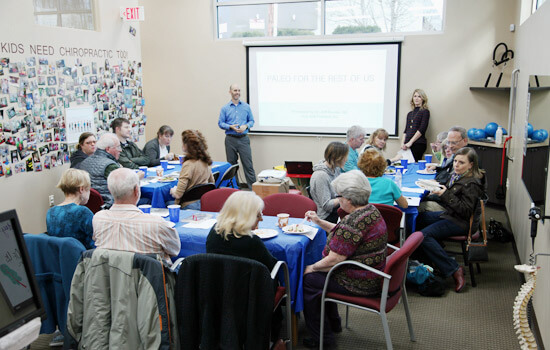 (Held monthly, please call for dates and times)
The definition of vital is important or essential. This dinner is vital to your process here as a patient, we find attendees have more successful outcomes. So, let us treat you to dinner and get you started on the road to wellness! You'll learn all about: holistic health, corrective care, subluxations, and how to cultivate healthy habits.
Bring a friend you think could benefit from chiropractic care.
Classes
Bring a friend and please RSVP for any class you plan to attend.
We look forward to seeing you!
---
Upcoming
More Coming Soon!

Workshops Beaverton, Raleigh Hills OR | (503) 245-8445