Devine Chiropractic Reviews
Looking to visit us the first time?
See why the Beaverton community chooses Devine Chiropractic
for their Chiropractic care needs!
Read our reviews on Facebook, Google and Yelp to hear what our current patients have to say.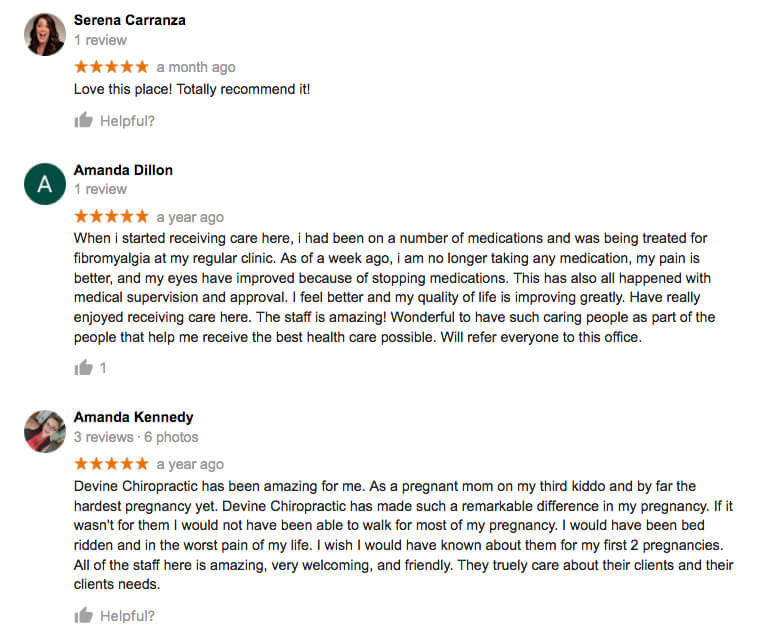 Thanks you so much, if it wasn't for you I would not have been able to complete a very demanding 40 mile back packing trip around Mt. Adams in Washington state of the 4th of July weekend. It was a little over a year ago that I inured my knee and was unable to any do physical activity without pain. The simple task of getting out of bed each day proved to be a challenge. After 6 months of care from my primary medical provider, I did have some relief but was still dealing with daily pain and unable to participate in any strenuous physical activities. When I brought this to my primary care provider's attention their solution was to do more physical therapy with rubber bands.I found this an unsatisfactory solution. Fortunately I attended a wellness luncheon hosted by the City of Tualatin and Devine Chiropractic, at the luncheon I signed up for a complimentary exam. Long story short within 6 months of my first visit to your office I went from the physically unable to perform list to not only hiking around a huge volcano much of which had no established trails, but was also able to keep pace with my 27 year old son!Thank you very much!
Andrew D., Tualatin, OR

Devine Chiropractic Reviews | (503) 245-8445